Lowell_Skoog
Member
Offline

Posts: 2088


WWW

---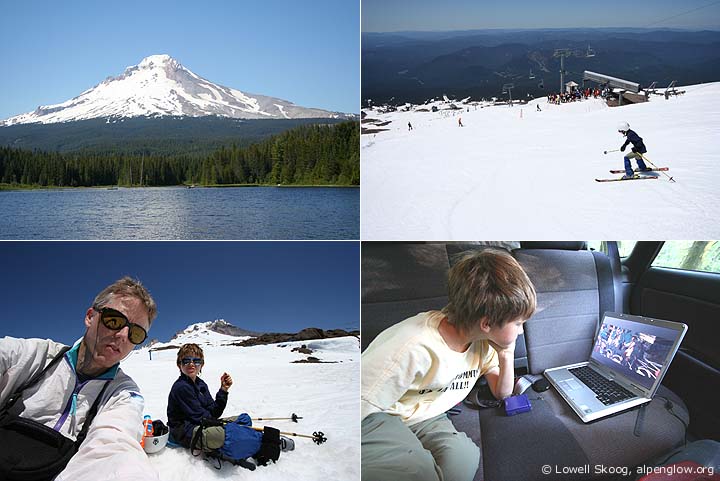 Upper-left: Mt Hood from Trillium Lake.  Upper-right: Tom skiing Palmer Snowfield.  Lower-left: Lunch break.  Lower-right: In-flight movies during the drive to Mt Hood.

---

With school ending on the 21st and summer camps starting next week, my son Tom and I pondered the annual question: where to spend the first weekend of summer vacation?  We had lots of choices: Mt Baker with school friends, backpacking with neighbors, the ocean like last year.  Since visiting Mt Hood in May I've been wanting to try summer lift-skiing with Tom.  So that became our plan.

We left Seattle Thursday afternoon and snagged a campsite (non-dirtbag variety) at Camp Creek, a few miles west of Government Camp.  Our site had a cool CCC fireplace with a marker stating that it was built as a community kitchen in 1936.  We spent two nights there, skiing the lifts at Timberline on Friday and Saturday.

The slopes were swarming with teenage skiers attending summer racing camps.  The Magic Mile was still skiable from top to bottom.  With the hot weather, they were salting the Palmer Snowfield copiously.  We preferred the nice soft snow along the sides.

On Friday, after the lifts closed (7 a.m. to 1:30 p.m. summer hours) we visited Timberline Lodge and sent a gloat-mail to Mom using Dad's new toy, a notebook computer.  Tom, at the keyboard, was merciless:



To: Mom at work
Subject: Wish you were here ...

Dear mom,

Too bad you can't be here it's like the fun never ends.

We get to ski camp out in a tent shoot arrows and eat dinner near a crackling fire.

You would have great fun, but you're not, you're sitting in an office drinking decaf.

You don't get to be near a fire or shoot arrows or sleep in a tent.

You'll find some pictures of what we've been doing thanks for reading.

Tom, Dad
(sorry your in boredom city too bad)



Mom took it pretty well.  She had plans for a weekend trip to the mountains with a girlfriend.  On Saturday, I tried to talk Tom into a ski tour to Illumination Saddle, but he voted to stick to the lifts.  Maybe next year...




Upper-left: Archery with homemade bow and arrows.  Upper-right: CCC-era fireplace.  Lower-left: Our crackling fire. Lower-right: Homemade target.