Lowell_Skoog
Member
Offline

Posts: 2065


WWW

---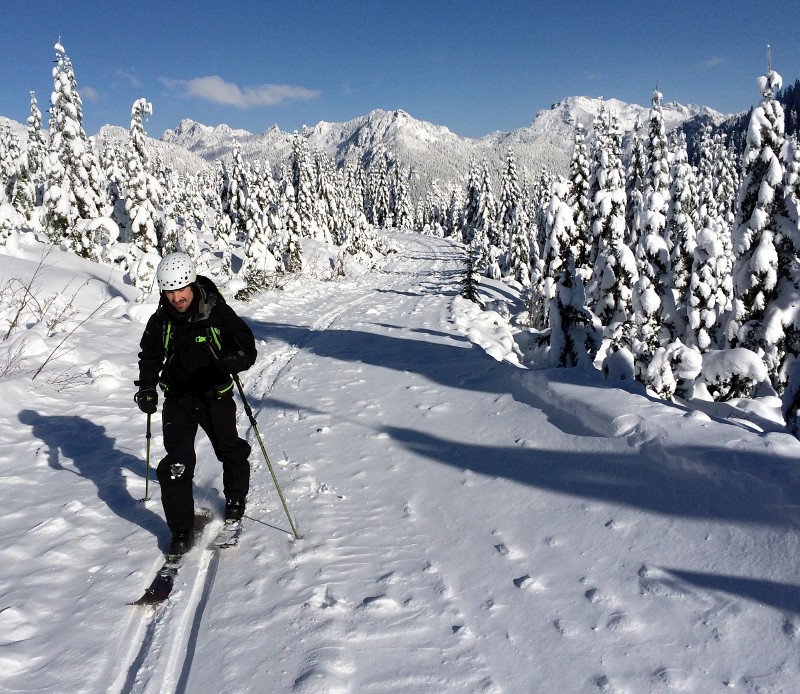 Approaching Windy Pass from the north.
---

Nigel and I took a day off work on Wednesday, Feb 5, to establish a trail on the section of the Patrol Race route between Windy Pass and Tinkham Pass. The race is scheduled for Saturday, Feb 8. See previous posts here:

December 16 announcement.
January 18 trip report.
January 23 trip report.

We followed the modern route from Summit West to the Mt Catherine Loop trail.

The cross-country ski trail was marked closed (packed but not groomed) below Rockdale Lake. There is a hazard on the road ski below Rockdale Lake. The cable for the bomb trolley below Radio Mountain (I believe that's what it's called) is drooping and you could be clotheslined by it if you weren't paying attention. The cable has a few pieces of colored tape tied to it.

The day was uncomfortably cold at times, with single-digit temperatures and intermittent strong breeze. We spent a considerable amount of time wearing down jackets and wind shells. Expedition mitts were recommended to keep hands warm. (I don't think it's supposed to be that cold on Saturday, but it's smart to be prepared.)


Waypoint at Windy Pass.
---

We left the road at Windy Pass at the point shown in the photo above. I believe Nigel has plans during the race for the waypoint marker that he left on the sign. I'll let him explain that later.

From this waypoint, you want to ascend gently toward the woods east of Silver Peak and cross the creek that drains the NE basin of Silver before climbing very much.  See my route description here:

http://alpenglow.org/skiing/patrol-race-2004/patrol-route.html

The wind is likely to mask our tracks somewhat near Windy Pass. I expect that the wind will have less effect in the woods leading to Tinkham Pass.


Setting the trail below Silver Peak.
---

The crust from a couple weeks ago is completely buried and nice forgiving snow conditions exist now. Crampons and other tools for dealing with hard snow are not needed. We did some digging near Tinkham Pass and the new snow seems stable enough for a safe race on the track we set.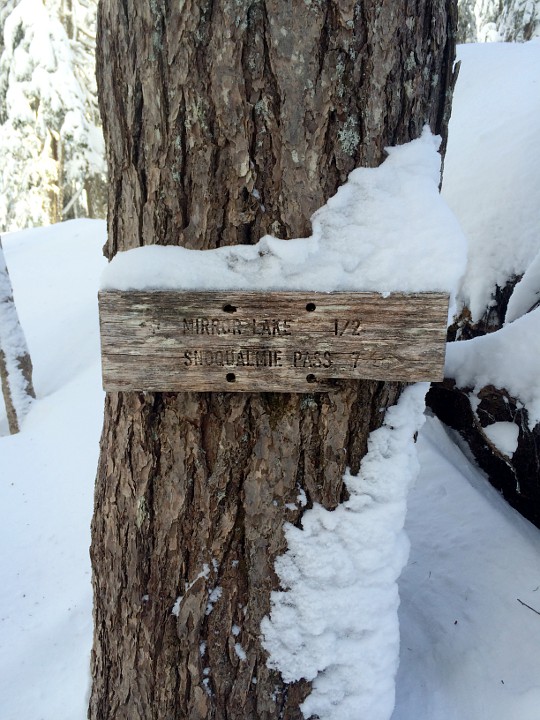 Tinkham Pass trail sign.
---

We continued a short distance beyond Tinkham Pass, to a point where you can ski down to Mirror Lake. We turned around at this point, since you can use gravity to descend to the lake. We returned home the way we came.

See the map below for details of the day's trip. I believe Nigel has plans for more trail breaking before Saturday's race.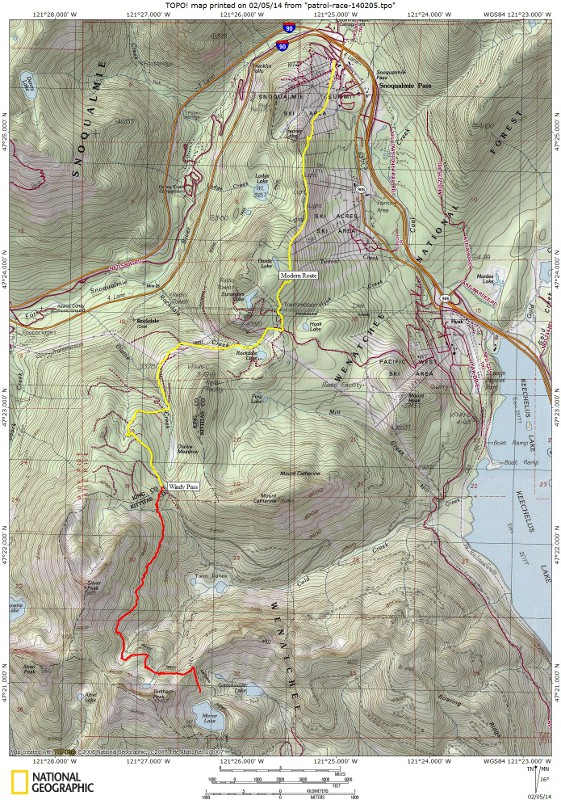 Route traveled on Feb 5. Yellow is mostly groomed trails. Red is trail broken on this tour. (Click here for full-size map.)
---